Classic Small Woodworking Shop Tools On A Budget
If you're a beginner woodworker on a budget, you'll need to choose your small woodworking shop tools wisely. That means selecting quality tools from trusted manufacturers that make their products for a good price.
A good table saw, a power jointer, and a sander are essential additions to any woodworking shop. They're also great for putting together small wood projects, but other tools can help you improve your skills and build more advanced items. See this guide for setting up a small woodworking shop with whatever little space and budget you have.
Table Saw
A table saw is a vital tool for any woodworker, and a good one can make a big difference. You'll be able to make accurate cuts and rip and crosscut materials to the exact measurements you want with a quality model. If the only things you'll ever need a table saw for are shortening 2x4s and ripping an occasional piece of ply, a budget model can work – so long as it has all the safety features.
Before choosing a table saw, you'll need to know what features are most important to you for the kinds of projects you'll be working on. This will help you make the best decision for your small shop, which will ensure a lifetime of use and service.
Blade: You'll need to buy a blade that matches the material you plan to cut with your table saw. This is particularly important if you work with plywood, which is commonly used for light construction and framing projects.
Power: The more powerful a table saw's motor is, the easier it will be to cut through your material. While lower hp models are fine for lighter-duty tasks, you'll need more power if you plan to cut heavy hardwoods or hardened stainless steel.
Safety: Many safety features are available for table saws, including anti-kickback pawls and a blade guard assembly. The former prevents kickback, while the latter stops blades from moving inadvertently if you accidentally push them.
Rip fence: A rip fence is a guide that helps you keep your material parallel to the blade while cutting it. It can be adjusted to control the length of the cut and prevent tear out.
Inserts: Some table saws come with inserts that can be changed. These can be purchased or made from wood, allowing you to create an insert that's perfectly suited for the job at hand.
Tabletop: A saw's tabletop should be absolutely flat so that you can get a smooth, accurate cut every time. This is especially important if you're cutting plywood, which can often be difficult to do without a proper tabletop.
A saw should also have electric brakes or emergency stop switches to shut off the motor if you accidentally start it while you're working with the material. This workshop safety tip will protect you from injury and save your workpiece from damage.
Drill
A drill is a versatile power tool that can be used for a variety of home improvement projects. Whether you need to put up shelves, hang pictures, or assemble flat-pack furniture, a drill will make the job faster and easier.
When you need a drill, it's best to shop for one that's made for your specific needs. A heavy-duty tool that can withstand serious impact or a cordless power drill will work better for heavier projects, but you may also need a smaller, less powerful tool for light maintenance and repair.
Before you start shopping, decide what you need the drill for and how often you'll be using it. You can choose from a range of models that include both corded and battery-powered options, including electric drills and hammer drills.
To get the most out of your new drill, consider a model that offers features like reverse mode and keyless chucks. These features will allow you to change bits quickly and efficiently while working on your project.
You can also opt for a drill that has an adjustable clutch to reduce fatigue and provide more control over speed when driving screws. Most models come with two fixed speeds, but you can find variable-speed tools if you want more control.
Another important feature of a drill is the chuck size. Most models are available in 3/8-inch or 1/2″ chucks, and you can select a chuck with a keyed or keyless design to make bit changes easy.
If you plan on using your drill for other projects, look for a battery-charging platform that's interchangeable among multiple tools of the same brand. These can help save you time and money on replacement batteries. You can still find good deals on 18v combos. They're not as powerful as the 20v models, but they can get the lighter jobs done.
Some drills offer a reversing function that can be useful when you need to back out of holes or remove screws without damaging the material being drilled. Other features of drills are the ability to adjust torque or a variable-speed trigger for more precise control.
Saw Horses
A sawhorse, also known as a trestle or buck, is a sturdy support beam used in woodworking to hold and stabilize large pieces of lumber while being sawed. They are often paired in pairs and work well for larger projects, like building furniture or boatbuilding.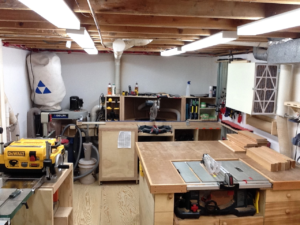 There are many different types of sawhorses available in the market, including plastic, metal, and wooden. These can vary in height and weight capacity, so you need to choose one that is right for your project.
For lightweight projects, a plastic sawhorse is a great choice. These fold up for easy storage and can accommodate a weight limit of 500 pounds. They also come with clamps and small shelves for storing supplies while you work.
Metal sawhorses are a popular choice for DIYers and professionals who use them for heavy-duty jobs. They are more durable than a plastic horse and can handle much greater weight. Some of these can be topped with a worktop for extra space. They may include shelves, vises, or drop-down sides for a range of sawing options.
They can also be crafted into makeshift tables, which are handy for small jobs and repairs. These are portable and can be moved from site to site when working on a project. Two rugged sawhorses and a piece of 3/4″ marine ply make a solid workbench.
A sawhorse is one of the most useful and most used tools for any small woodworking shop. Not only is it great for cutting and sawing wood, but it also provides a level surface that you can use to paint or sand.
If you are a new woodworker, saw horses can help you develop a solid foundation for your projects. Once you get the hang of using a saw horse, you will find it easier to do more and better woodwork in your shop.
Another tool that is essential in any small woodworking shop is the jointer. This tool is often used in conjunction with the thickness planer, allowing you to flatten and smooth boards that have been warped or twisted before transferring them to the table saw for cutting to a desired thickness.
Jointer
A jointer is a must-have tool in any serious woodworking shop where precision and finish are important. It can be used for cutting joints, edging and gluing, and more.
Whether you're a beginner or an experienced woodworker, choosing a jointer that's right for your needs will help ensure a smooth, efficient, and safe operation. Here are some of the things to consider when shopping for a jointer:
Table size and length – The table width and length are crucial in determining the kind of materials you can cut with a jointer. A long table means you can handle large pieces and make a wider range of cuts without worrying about bending the wood or damaging it.
Motor speed – Motor speed is also an important consideration when buying a jointer. A low-speed machine is ideal for less experienced woodworkers, while a high-speed model is designed for precision and optimum performance.
Stand design – The stand on the jointer you choose determines how much material it can accept. Benchtop models typically have smaller tables, while cabinet-style jointers are larger and can accommodate a larger amount of material.
Cutter head type – Smaller benchtop jointers use two or three cutter heads, while larger cabinet-style jointers have four. The number of blades on a jointer's cutting head affects how smoothly the wood is cut.
Fence system – The fence on your jointer should be adjustable to fit different angles. The fence system should be sturdy and provide a stable surface for feeding your lumber through the blades. Some models feature positive stops or micro-adjustments that allow you to adjust the fence to any angle.
A good fence system should have stops at 45, 90, and 135 degrees, enabling you to cut different angles and bevels. The fence should also be made from a sturdy material, such as cast iron, that will resist warping and bending over time.
A heavy jointer should be placed carefully in a workshop space to prevent injury or accidents. It should also be positioned near a workbench or a self-made sawhorse.
Sander
Sanders are used for smoothing wood and removing imperfections. There are three main types of sanders: belt, disc, and orbital. Each type has its own benefits and drawbacks.
Belt sanders – A belt sander has a long, continuous loop of abrasive material that is wrapped around two rollers. This allows it to sand larger surfaces quickly and efficiently as it moves along the length of the belt. It is often used to remove material or smooth large surfaces, such as floors or decks.
Disc sanders – A disc sander has an abrasive disc that spins around a central axis. This allows it to move in a circular motion, making it ideal for sanding small surfaces such as door frames or furniture edges. Disc sanders are also more precise and can be used for finer sanding tasks, such as polishing wood or metal.
Orbital sanders – Orbital sanders are designed for smaller projects, such as furniture or cabinets. They can be held in one hand and have a round pad that oscillates, making them ideal for getting into tight spaces and corners.