6 Tips for Optimizing Your Small Woodworking Shop
As a woodworker, you know that optimizing your small woodworking shop is critical to working efficiently and safely. Whether you work in a small garage or a spacious workshop, you need to optimize the space for your needs.
To maximize your workspace, invest in creative storage solutions. Additionally, your shop layout must be flexible enough to store your essential tools and be able to change as your needs evolve. Safety should always come first.
This article will cover these critical points and give you tips on designing and organizing a small woodworking shop for efficiency while keeping safety in mind. You want to feel good walking into your shop. Everything in its place and ready to go. A professional and soul inspiring shop.
Maximizing Your Space
Whether working from a garage, basement, or utility building, you can optimize the space to suit your needs. The key is being organized and working efficiently.
One way to achieve this is by keeping tools visible and easily accessible. This is essential to any shop organization strategy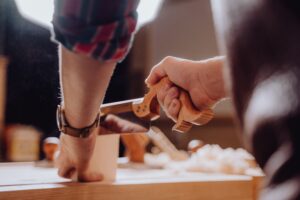 and will help maximize your small woodworking shop's efficiency.
Another way to maximize your space is by discarding non-woodworking items you don't need. This could include anything from chainsaws and hockey sticks to winter tires.
Creative Storage Solutions
For every woodworker, finding creative storage solutions for your shop is paramount. By effectively organizing tools and equipment, you can maximize space while improving efficiency in the workshop.
Investing in tools with built-in storage options is essential for optimizing your shop's organization. In addition to tool chests and cabinets, wall-mounted systems, pegboards, and other creative storage options can all be considered.
Essential Tools
Some essential tools will get the job done if you're new to woodworking with a tight budget. These include basic hand and power tools for cutting, measuring, assembling, and holding wooden parts.
A table saw is often considered the cornerstone of a woodworking shop. It is a versatile and powerful tool that can make a variety of cuts, including rip cuts, crosscuts, coves, moldings, dados, kerfs, rabbets, miters, and bevels. With proper setup, maintenance, and use, a table saw can greatly increase the efficiency and accuracy of a woodworker's projects.
Another helpful power tool for beginners is a router. This versatile tool can do everything from dado blade cutting to creating circles and other standard shapes.
When saw blades start spinning, dust starts flying. Workshop dust is unhealthy, and you must deal with it from the start. You can choose from wall-mounted or portable units for dust collection.
Layout and Workflow
No matter your woodworking specialty, your shop layout must be flexible enough to change as needs evolve. That means strategically reorganizing equipment and tools, so they're all easily accessible when needed.
Keeping everything within easy reach is essential for efficiency and keeping your workshop clean. This could be as easy as creating a small cart with all the essential items like brushes and rags, so they're always at hand.
Designing a Small Woodworking Shop for Efficiency
Maintaining an organized woodworking shop can make all the difference in how quickly you complete projects, especially if you're limited by space.
Typically, the standard approach is to organize your workshop around your tools. However, this strategy only works effectively if there is adequate room for each tool.
When planning for your workshop, leave enough room for table saws, router tables, and other stationary tools. Additionally, leaving space beneath your lumber rack for larger pieces of wood is advisable.
Safety First
Safety should always come first in any shop, whether you're a professional woodworker or an amateur. Taking precautions against slips and falls is especially crucial in small shops.
No matter your experience or skill level, wearing appropriate clothing is a must. Loose garments can get caught on rotating blades and cans of finish, so keep them as form-fitting as possible.
It is also wise to tuck any necklaces or lanyards away, as they can get caught in tools and be extremely dangerous. Even watches and rings must be secured properly.